Letterhead & Stationery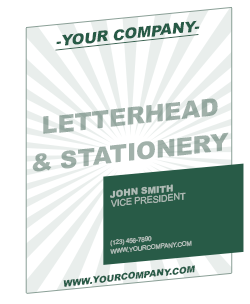 We work painstakingly hard to create stationery and letterhead that delivers a great and professional impression. These days it isn't enough to send run-of-the-mill letterhead and stationery—you need to have something that people will notice.
Businesses with stationery needs in Chatsworth and the San Fernando Valley and beyond know Breakaway Press is the only place to go for quality:
Business letterhead
Business stationery
Envelope printing
Letterhead design
Personalized or custom stationery
and more!
Don't wait any longer. Let's get started by creating stationery or letterhead that's as unique as your business.